MiniFFC History
2019 2018 2017 2016 2015 2014 2013 2012 2011 2010 2009 2008 YouTube
MiniFFC premiered on October 30, 2008 as a mini web design conference and meetup that paved the way for Form Function & Class. It has evolved into all kinds of events for designers & developers — meetups, workshops, roadshows, drinkups, networking, quiz nights, lean coffee discussions, panels, portfolio reviews, code challenges, and more.
This page documents our MiniFFC speakers and presentations over the years , covering a wide range of topics in design, development, mobile, user experience, accessibility, marketing, and business.
Want to speak, sponsor, or help out? Let's talk!
2019
Check out our event calendar!
2019 Overview on pwdo.org PH Tech Community
#57: Kicking Off Design Teams
November 27, 2019 at Kickstart Ventures, Makati
Integrating Figma Into Our Design Process
by Jelvin Base
Killing the Mockup: High Fidelity Rapid Prototyping for the Web
by Marco Palinar
Leadership through Design
by DJ Hernandez
OIC: Drei Alquiros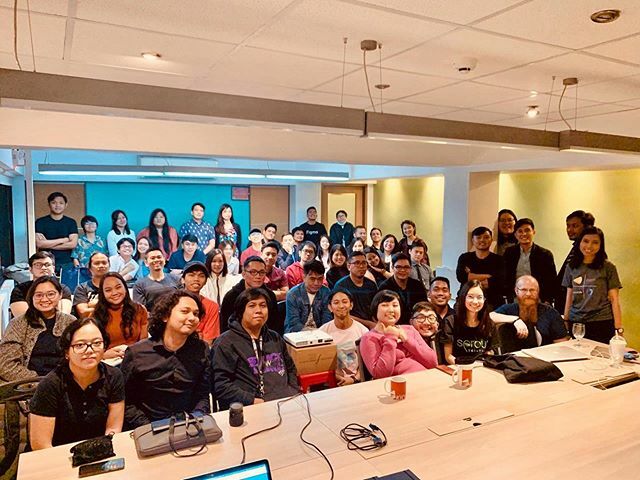 #56: Unconventional Design
October 16, 2019 at Proudcloud, Quezon City
Women Who Code in the Dark
September 28, 2019 at AWS, Taguig
Co-organizer: Manila.css & Women Who Code Manila
#55: Milk Tea and Web Design
September 14, 2019 at 107 Co-Working by Macao Imperial Tea, Manila
Web Design Tips and Tricks
by Drei Alquiros
"It Can't Be For Nothing!"
by Pierce Jonota
OIC: Renz Morco
JSConf.Asia Viewing Party
June 15, 2019 at The Globe Tower, Taguig
April 24, 2019 at Orange & Bronze, Makati
Video by Orange & Bronze
Video by Orange & Bronze
March 20, 2019 at A SPACE, Makati
Co-organizer: UX Philippines
Pecha Kucha style introductions of the Womentors
Speed dating style mentoring sessions with mentors and mentees
OIC: Pierce Jonota
Photos by Ely Apao Article by Ely Apao Photos & Video by Richard Parayno
February 20, 2019 at Accenture Liquid Studio, Taguig
---
2018
November 21, 2018 at The Globe Tower, Taguig
A Very EPIC Talk on Agile and UX
by Regnard Raquedan
Philippine Web Designers Organization as a Community
by Kit Valmadrid & Shaira Distura
Livestream part 1
Livestream part 2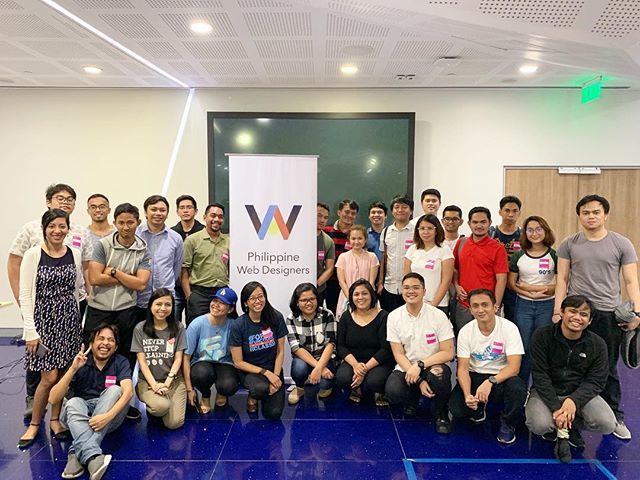 October 20, 2018 at Atlassian, Taguig
Co-organizers: Women Who Code Manila and Manila.css
Livestream part 1 Livestream part 2
September 29, 2018 at LogInstitute, Vigan
Creating a Website using Webcomponents
by TJ Monserrat
Web Design Fundamentals
by Drei Alquiros
Acing that Interview
by Richard Parayno
#50: Data and Design Meetup
July 25, 2018 at Kalibrr, Makati
June 20 at NuWorks Space, Pasig
May 16, 2018 at A Clean and Well-Lighted Place, Pasig
April 21, 2018 at Clock In, Taguig
Co-organizer: WordPress User Group Philippines​
WordPress E-commerce for MSMEs
by Janette Cheng Toral​
A Consistent Digital Experience for Cebu Pacific
by Jelvin Base​ & Nica Balisi​ of Make by Ace Saatchi & Saatchi​
State of Philippine Web 2017 Survey
by Mae Lynn de Leon​
March 24, 2018 at iAcademy, Makati
February 21, 2018 at Make Technology, Makati
Design is Always a Team Effort
by AK Domingo
January 8, 2018 at Canva, Makati
---
2017
November 6, 2017 at A SPACE, Cebu City
Design Sprint for Busy Stakeholders
by Justine Win Cañete
Introduction of Web and App Style Guide
by Rochel Abrasaldo
#43: Roadshow
November 18, 2017 at iAcademy, Makati
HTML and CSS
by Drei Alquiros
Bad Match-ups: UI vs. UX
by John Lim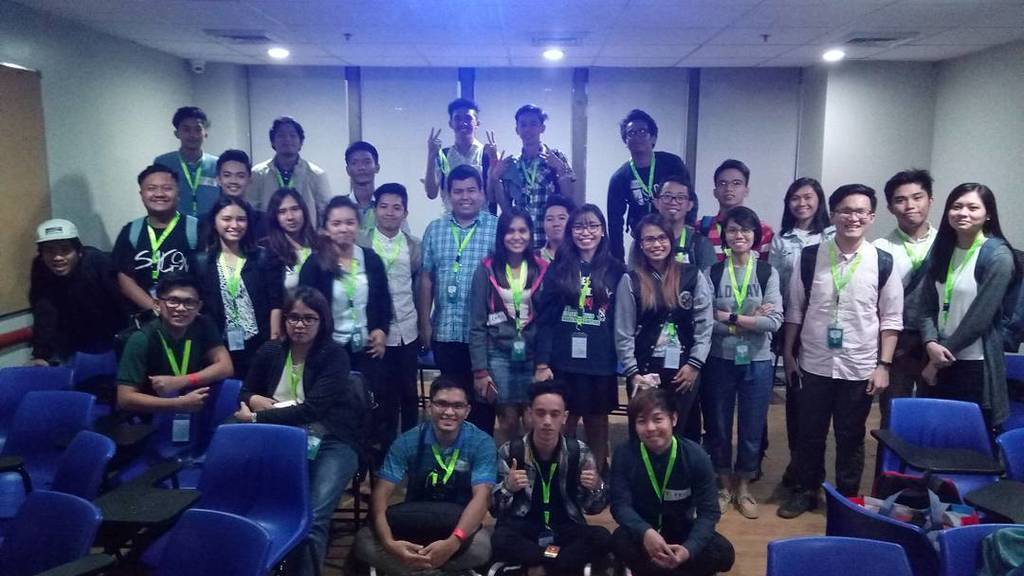 October 18, 2017 at Voyager Innovations, Mandaluyong
HTML Structure and Tricks
by Toni-Keith Jan Monserrat
Ethics in Design
by Marco Palinar
July 19, 2017 at Zendesk, Taguig
WebVR
by Christopher David
Bridging Creativity with Business Sense
by Monika Ortega
Are Clients Always the Bad Guy?
by Eugene Gagolinan
June 21, 2017 at Z.com, Makati
A Design Process
by Brian Dys Sahagun
Women vs. Men who code Quiz Night
#39: Design and Build
May 17, 2017 at Zendesk, Taguig
Soft Skills to Build a Startup
by Vernard Alexis Luz
Inside the Chamber: Building EXECUTION DAY
by The Guidon
State of the Philippine Web 2016 survey results
by Sophia Lucero
April 19, 2017 at Google Philippines, Taguig
Why We Move Up
by Drei Alquiros
The World is Flat
by Eugene Alvin Villar
March 25, 2017 at University of Baguio, Baguio
Web Architecture & Frameworks
by Toni-Keith Jan Monserrat
Design Thinking
by Mica Diaz de Rivera
Search Engine Optimization
by Vincent Tabor
January 18, 2017 at Z.com, Makati
Understated UX Details
by April Damaso
---
2016
December 7, 2016 at NuWorks, Pasig
Wandering Weekend Warrior hugots
by Jonas Roque
Spoken word performance
by Alfonso Manalastas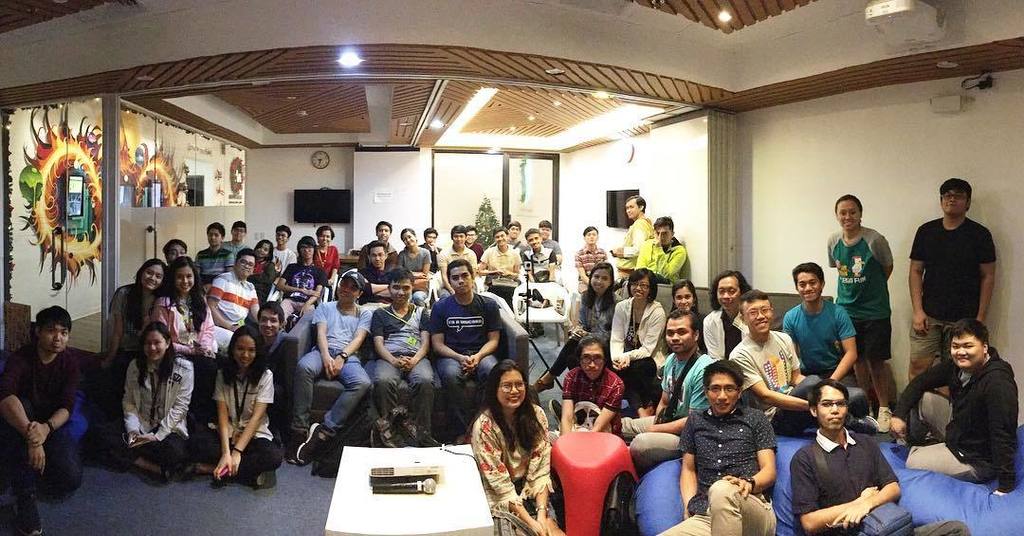 Video of Jonas Video of Alfonso
September 7, 2016 at Globe Labs, Valero Makati - s2016e06
Foundations of UX Research
by Ben Kim
#33: Pampanga Roadshow
July 31, 2016 at BynareTech, Dau, Pampanga - s2016e05
Design Thinking Workshop
by Mica Diaz de Rivera
The Craft of Designing for the Web
by Kate Lara
June 30, 2016 at aCommerce, Pasig - s2016e04
May 18 at NuWorks Interactive Labs, Pasig - s2016e03
Panel Discussion featuring:
Greffin Manibo of Globe Telecom
Jemuel Dalino of Wikonec Inc.
Tomy De Leon of NuWorks
April 16, 2016 at Globe Telepark Valero, Makati - s2016e02
Interaction Design
by Mark Lacsamana
HTML & CSS
by JP de Guzman
March 15, 2016 at Bitspace, Makati - s2016e01
Style Guides in Rails
by Sam Rose Cruz
From Adhesion to Design
by Aceler Chua
---
2015
Drinkup
October 17, 2015 at Livestock, QC
September 19, 2015 at University of Santo Tomas, Manila – s2015e07
Do's and Don'ts in Web Design
by JC Sioson
Project Tremors
by Dominic Tuazon
Mozilla Philippines
by Ryan Ermita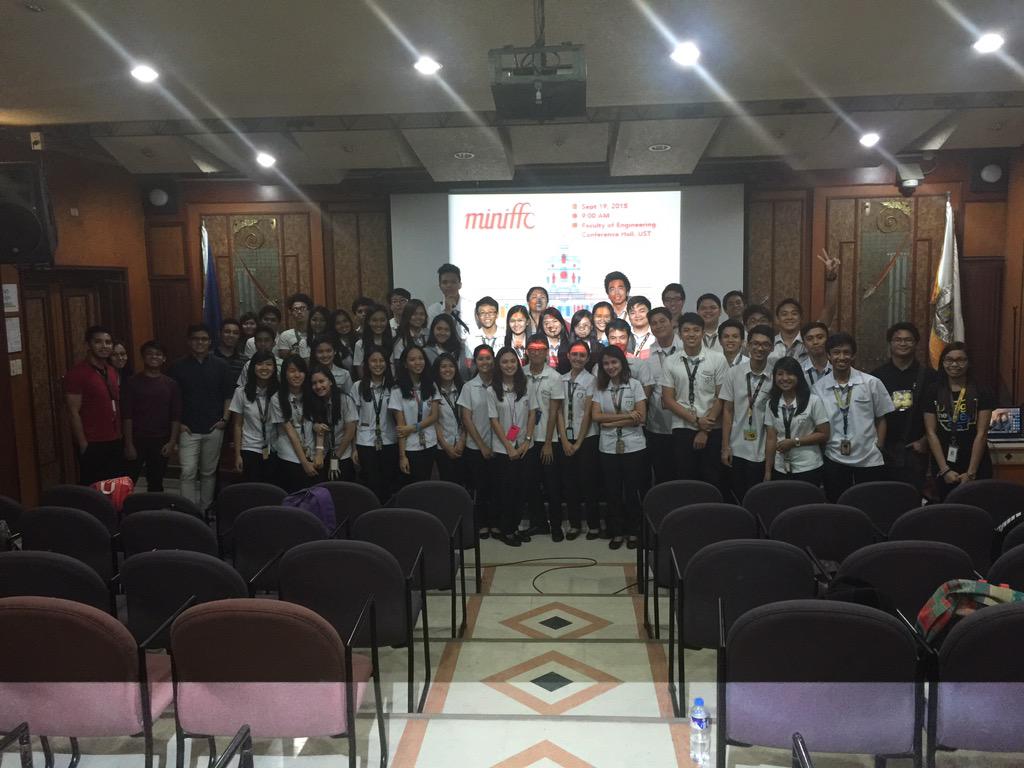 July 15, 2015 at OLX, Pasig – s2015e06
Implementing Material Design in enterprise apps
by Seph Buluran
Philippine Internet Speeds
by Carlos Nazareno
June 17, 2015 at Bitspace, Makati – s2015e05
Code ni Juan
by Juan Miguel Alvarez
Lean Coffee discussions: SEO, mobile responsiveness, UX, clients, SVG animation, frameworks, and more
April 15, 2015 at Canva, Makati – 2015e04
Web Design Thinking Session moderated by Mark Lacsamana:
Why has visual design gone flat?
How to Hire Designers?
The UX Read Receipts and Text bubbles
March 11, 2015 at co.lab, Mandaluyong – 2015e03
CSS Flexbox
by Rico Sta. Cruz
Do's and Don'ts
by Drei Alquiros
February 21, 2015 at Kickstart, Makati – s2015e02
That Thing Called Web Design
by Kit Valmadrid
UX of Dating Apps
by Micael Diaz de Rivera
Building Peekawoo
by Valenice Balace
The Designer's Guide to Social Media
by Julya Buhain
January 28, 2015 at Frost, Pasig – 2015e01
Portfolio Review by:
Ely Apao
John Paul de Guzman
Patrick Cabral
Lindsey Grande
Gab Madrid
---
2014
August 27, 2014 at OLX, Mandaluyong
What to Design
by Kit Valmadrid
Lessons from China
by Aceler Chua

July 23, 2014 at Globe Telepark, Makati
Axure for Prototyping
by Whey Ragadio Game Dev
by Natassha Po
June 26, 2014 at Microsoft, Makati
Knowing Your Sh*t
by OJ Tibi
May 23, 2014 at OLX, Pasig
Zurb Foundation
by John Imbong, Adobe User Group Manager
OLX.ph Design Process
by Mark Lacsamana, OLX.ph User Interface Designer
Lean Coffee discussions
March 26, 2014 at Globe Telepark, Makati
Designing for Social Good design thinking workshop
by Ely Apao
January 22, 2014 at Commune, Makati
Fixing Up Your Portfolio & Common Business Issues
by Rina Malonzo & Trina dela Rama
PhoneGap
by Richard Gonzales
RCSS and other CSS preprocessors
by John Paul de Guzman
---
2013
Rails for Designers
Workshop in partnership with Philippine Ruby Users Group
July 17, 2013 at Globe Telepark, Makati
Rails for Designers
by Ken Daganio
Lean Coffee discussions
June 19, 2013 at Exist, Pasig
LeanUX by Allan Caeg
Lean Coffee discussions
May 15, 2013 at Payroll Hero, Taguig
Designing Better Experiences
by Edmond Gozo
Lean Startup Approach
by Christian Besler
Startup Weekend Manila 2013 winners
April 17, 2013 at SourcePad, Pasig
Typography & Lettering
by Carl Graham
Metafundamentals
by Joshua Falco
Politi-ko.com & Rollcall.ph
by Frohawk.ph
---
2012
September 15, 2012 at Microsoft, Makati
Margaux Cortez (PortfolioMNL)
Mark Lacsamana (marklacsamana.ph)
Success with 3rd-party APIs
by Tom de Leon (nuworks.ph)
Ranulf Goss (CECP)
Tim de Dios (Microsoft)
#10: Meetup
March 24, 2012 at Exist, Pasig
Designing for mobile devices
by Camille Zapata
Web design for brands
by Lindsey Grande
Making an app to change a customer's mind to promote active consumer purchasing behaviour in Asia by Guyi Shen
Online motion graphic videos
by Gino Caparas
---
2011
#9: Meetup
November 26, 2011 at US Auto Parts, Mandaluyong
HTML5 Canvas Using EaselJS
by James Florentino
Business 101: Creating And Communcating Value
by Andrei Gonzales
Mozilla Firefox Developer Tools
by Allan Caeg
August 11, 2011 at ProudCloud, QC
Persuasion Design
by Ely Apao
June 16, 2011 at Exist, Pasig
Designing the user experience for mobile
by Madhava Enros, Firefox Mobile UI Lead (Remote Presentation)
Ruby Tools, Hyde, HAML, Markdown, SASS
by Rico Sta. Cruz
Intro to Git
by OJ Tibi
John Paul De Guzman
---
2010
#6: Meetup
February 11, 2010 at Exist, Pasig
If the 2010 Philippine Presidential Elections were a Website Contest, Who'd Win?
by Regnard Raquedan
VERSUS
by Sophia Lucero
---
2009
November 14, 2009 at De La Salle-College of Saint Benilde, Manila
CodeIgniter MVC
by Rowen Remis R. Iral
Semantics & Maintenance
by Mae Paulino
VERSUS
by Sophia Lucero
March 18, 2009 at Exist, Pasig
Branding Design
by Ely Apao
Top 5 Internet Marketing Mistakes
by Regnard Raquedan
WordPress Themes
by Rico Sta. Cruz
Web Accessibility with Assistive Technology
by Rene Buban Orense
Finding your Soulmate
by Luis Buenaventura II
Leveling Up your Image Processing Skillz
by Marco Severo M. Palinar
January 22, 2009 at Cosmopolitan International Institute of Technology, QC
An intro to Textpattern
by Eugene Alvin Villar
Getting started with Concrete5 CMS
by Jan Pabellon
Pricing Your Web Design Work
by Regnard Raquedan
How to write a good ALT text
by Jojo Esposa Jr.
SEO for Web Designers
by Alfredo Palconit Jr
Overview on front-end optimization and best practices
by JP Dela Torre
Slides Article by Eugene Villar
Article by Sophia Lucero
Article by Jojo Esposa Jr.
---
2008
November 27, 2008 at Exist, Pasig
Foundations of Style
by Rico Sta Cruz
Web Design for the Poor
by Marc Robinsone Caballero
Skip to Content
by Jojo Esposa
Moving From Tables to CSS
by Sarah Cada
Measuring Usability Design
by Ely Apao
HTML Emails Best Practices
by Rick Ong
October 30, 2008 at Exist, Pasig
Philippine Laws Supporting Web Accessibility
by Jojo Esposa
Phi: golden ratio on the web
by Rico Sta. Cruz
Resolving Resolutions
by Regnard Raquedan
Alternatives to HTML deprecated features
by Aja Lapus
Interaction design
by Rey Mendoza
Building Successful User Interfaces
by Marco Palinar
Slides Photos
Article by Even Grounds
Article by Eugene Villar
Article by Sophia Lucero
Article by Jojo Esposa Jr.
---